Skip to Content
Hurricane Relief Fundraiser!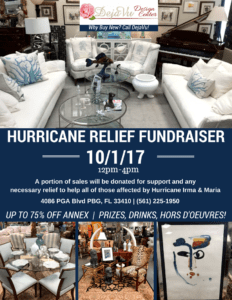 THANK YOU TO ALL WHO HELPED MAKE THIS FUNDRAISER A SUCCESS!!!!!!
We donated 25 bags of clothing, Gatorade, over 200 units of insect repellent.
THANK YOU!!!!
DejaVu Hurricane Relief Fundraiser
Hurricane Irma and Maria have caused widespread damage across the Caribbean and Florida
This Sunday, October 1st from 12-5 we will be having a spectacular SALE and FUNDRAISER to benefit the victims in the affected areas. A portion of sales will be donated for support and any necessary relief to help all of those in need.
Please join DejaVu Design Center for a fun afternoon of shopping, prizes, music, and hors d'oeuvres.